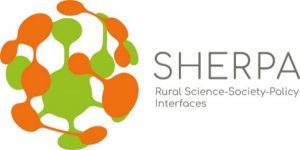 On January 16, 2020 ERDN representatives participating in the Horizon 2020 SHERPA project took part in the SHERPA workshop for MAP monitors and facilitators.
SHERPA project  – https://rural-interfaces.eu/ – is focused on gathering knowledge and opinions that will be translated into policy recommendations to shape a visionary policy for the EU rural areas.
A key part of the project are multi-actor platforms (MAPs) created by SHERPA partners which act as a place for exchanging opinions on rural areas and their future. MAP participants are different rural stakeholders representing science, society and policy.
The workshop was organised for the SHERPA partners involved in MAP facilitation and monitoring. MAP facilitator is a person who:
Invites MAP members (stimulates the discussion and keeps a good mood in the team:)

Helps to draw a vision, plan and implement the action plan for the territory.
The ERDN teams was represented by the following colleagues:
Czech team – Marie Trantinová, Edita Turková and Renáta Veselská;

Hungarian team – Victoria Vasary and Máté Kis;

Lithuanian team – Rita Vilkė;

Bulgarian team – Bozhidar Ivanov;

Romanian team – Monica Mihaela Tudor;

Polish team – Paweł Chmieliński and Barbara Wieliczko.
This year ach ERDN team will have to establish one MAP and help their MAP in preparing dynamic action plan and writing discussion and position papers.
About the Multi-Actor Platforms (MAPs)
Rural interfaces are Multi-Actor Platforms (MAPs) implemented across Europe and which act as open forums for exchanges of ideas, for co-learning and co-creating knowledge. They aim to engage citizens, researchers and policy-makers at local and EU levels in debates, to jointly develop strategic thinking and practical recommendations for the formulation of modern rural policies and research agendas at European and regional levels. More info about the you may find at the SHERPA site.
And here are ERDN-based MAPs:
Through the implementation of a participative process, the conclusion and recommendations achieved in the MAP are presented in the project position papers. In this respect, the project will produce:
Regional and National MAP Position Paper: Document summarising the opinions of the MAP on a specific topic. The set of position papers from the local MAPs will be used in the EU MAP to prepare a single 'SHERPA position paper'. All documents will be made available here.
SHERPA Position Paper: Document summarising the knowledge from previous and ongoing research projects, and synthesising the opinions from the Regional and National MAPs on a specific topic. The topic and document will be prepared by the EU-level MAP and discussed at the SHERPA annual conference. All documents will be made available here.